Charm is synonymous with the Maldives, and if there's anything else besides the accommodation that adds to it, it's an exclusive dining experience. It's no longer eating on the beach, but the five stunning Maldivian underwater restaurants you need to visit to make your Maldives travel experience something unique to remember. Be sure to enjoy dining at one of these restaurants with significant to make this a night to remember. We assure you that you will have a unique gastronomic experience in life.
The 5 Best Underwater Restaurants in Maldives
Built beneath the ocean, offering magnificent views of marine life through glass roofs, these restaurants truly redefine the underwater dining experience in the Maldives. Check out the list of the 5 best underwater restaurants in the Maldives.
Maldives' first underwater restaurant with a 180º panoramic roof
The underwater restaurant with first marine nightclub
Underwater restaurant in Maldives with best winery
World's largest underwater restaurant in Maldives
Most modern and spectacular underwater restaurant in South Male atol.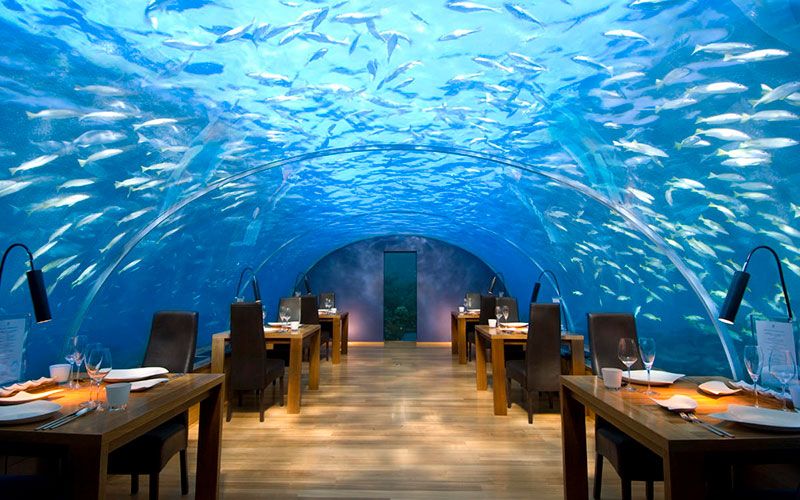 1. The maldives' first underwater restaurant with a 180º panoramic roof
Built 5 meters below sea level, this restaurant on rangali Island in the Ari Atoll Sud is undoubtedly the first and one of the best underwater restaurants in the Maldives. With 180-degree panoramic views of the rich marine life, this restaurant offers an absolutely unforgettable experience and is unique in its surroundings. What makes it exclusive is that you can also book it for private breakfasts, weddings and other special occasions! Add this restaurant to your list of underwater restaurants in Maldives where you can enjoy a delicious meal.
Wow effect: It is the first underwater restaurant in the world, and is the winner of three Global Awards at the World Luxury Restaurant Awards, 2017.
Cuisine: European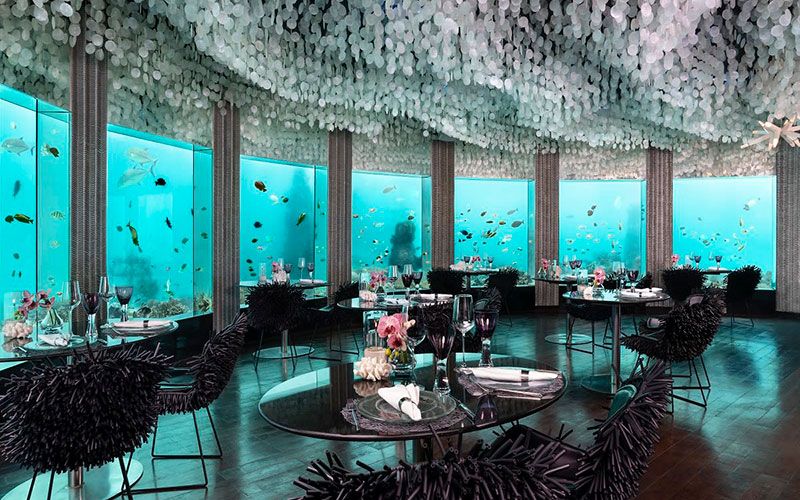 2. First underwater nightclub in Dhaalu atol
Located in the southern part of Maldives we find an underwater restaurant and originally the first underwater nightclub on the island of Kudahuvadhoo. This is one of the most visited underwater restaurants in the Maldives. True to its name, from the chairs that look like sea anemones to the shell-shaped bar reflects the aura of the sea. To top it off, coral chandeliers and blue ocean lighting add to the mermaid theme and make one feel like a part of underwater life.
"Wow" effect: Located 6 meters below the Indian Ocean, what makes this restaurant exclusive is not only the gastronomic experience it offers, but also the excitement involved in getting here. After taking a speedboat, descend a spectacular three-level staircase and your path opens illuminated by abstract Italian chandeliers making for a delicious meal. Immerse yourself in champagne breakfasts, underwater lunches, gourmet dinners, and adults-only resplendent parties that brighten up the night next to the reef theater.
Cuisine: seafood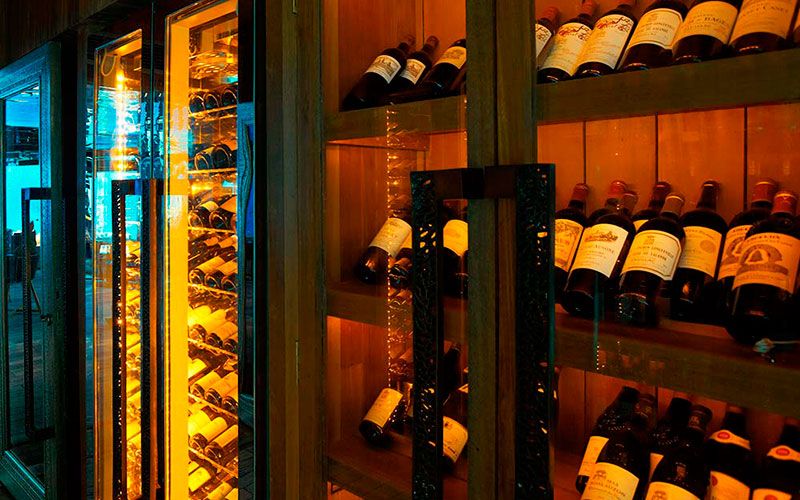 3. Underwater restaurant in Maldives with best winery
This underwater restaurant takes the underwater food experience in the Maldives to a new level. Their gourmet food ranges from impeccably plated Maldivian lobster to a pan-skilled Japanese wagyu. As a unique experience, its spectacular and award-winning wine cellar with more than 450 bottles is combined with a tasting pairing that takes place in the most surreal scenarios. There is no doubt that this is an extraordinary place to visit with your loved ones to experience underwater life right with your eyes!
Wow effect: Being the first underwater winery in the world, this restaurant offers a dream and out of the world experience accompanied by international gourmet cuisines
Cuisine: Dhivehi (local gastronomy of Maldives) and international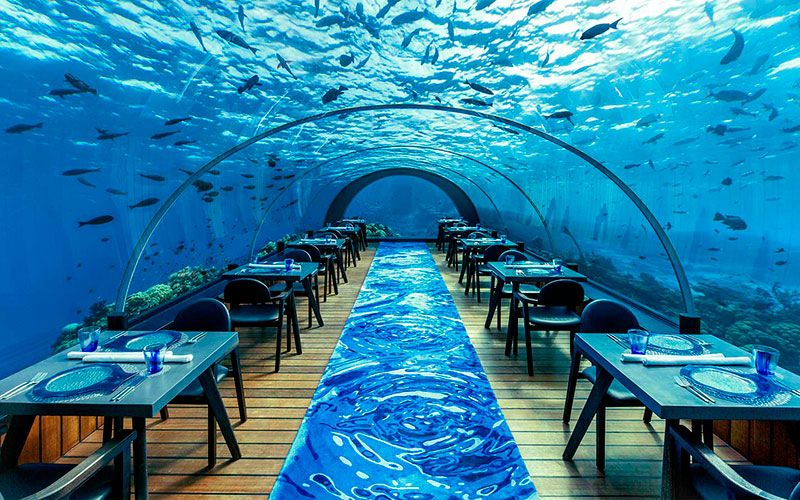 4. Maldives largest underwater restaurant in the world.
Dazzling in appearance, it offers an exquisite underwater dining experience. The search for the elusive gastronomic sky seems to be over: this spectacular underwater restaurant dazzles and delights diners with a great multi-course tasting show, adorned with a state-of-the-art location. It's both a haute cuisine culinary delight and an extraordinary design masterpiece: in combination, you can satiate your appetite and immerse yourself in the pleasure of having a view that only a few restaurants in the world offer.
Wow effect: Strategically well located on the Huruvalhi island of the Lhaviyani atol, it is the largest underwater restaurant in the world. Its interior space has been designed for intimate conversations, with capacity for no more than 10 couples. The restaurant is open for lunch (two shifts: 12.00, 14.00) and dinner (one shift: 18.00). The restaurant is available for a private breakfast with champagne on request.
Food: Seafood, European, International, Fusion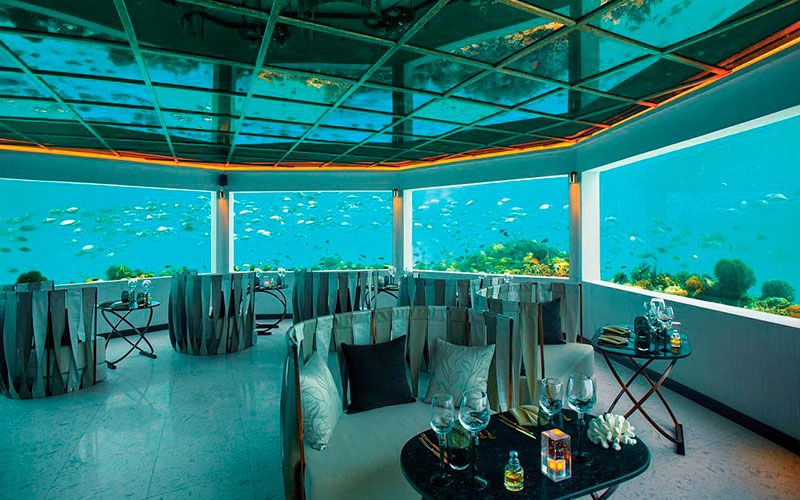 5. Most modern and spectacular underwater restaurant in South Male atol.
Located six meters below the Indian Ocean surrounded by a turquoise lagoon and the stunning underwater world of the Maldives, this spectacular underwater restaurant is the crown jewel of excellent underwater dining experiences. It offers an incredible gastronomic experience and exotic seafood cuisine that will leave you impressed with its charm. Aside from lunch, you can try champagne breakfasts here or reserve space for a special night of themed events. In order for adults to fully enjoy the romantic dining experience at the underwater restaurant near Male, children are only allowed on special days. Meanwhile, while parents enjoy their visit to the M6m, the kids' club offers children an exciting program with delicious snacks.
Wow effect: This underwater restaurant located in the south of the South Male' atol is an exclusive place to eat under the sea and offers captivating views of sea turtles, shells and other emerald beauties.
Food: European, Seafood
If you are passionate about enjoying the best gastronomy in one of the 5 best underwater restaurants in the Maldives, contact us and together we will design your dream trip.