Luxury Travel; A quality experience that has got even the tiniest details.
Everyone has their preferences, wishes and particularities. For this reason we love to talk to our clients and understand their wishes, preferences and travel ideas and design them holidays that make their dreams come true. Our empathy and travel experience makes us think as travelers, understanding what the client is looking for on each holidays and taking care of all the travel details, so one can only care about truly enjoying their holidays. Name it Luxury Travel… o simply more Personalized Travel

ALGUNOS
Tailor-Made and personalized Luxury Travel
Enjoy Unique Travel Experiences…
In Next Destínium we design private holidays for each of our clients. According to the preferences of each and every client, we carefully select the accommodations and work with the best local companies that guarantee us an excellent service of tailor-made treatment. We choose those accommodations where we believe best to be located and those unique activities and experiences that best reflect the essence and quality of luxury travel.
Our exclusive luxury holidays
At Next Destinium we create private travel truly personalized, Client Centric Approach, At Next Destinium we create fully tailored private holidays, Client Centric Approach, based on customers´ wishes and preferences and with a personalised treatment. We like to share our travel passion with our clients, exploring the drive for their holidays, what they are looking for on, the services they need and what experiences they want to live.
We design exclusive luxury travel services, made by our own production and blended with our own travel experience. We create unique travel experiences like safaris to Botswana, South Africa, Namibia y Tanzania, as well as luxury travel with kids to Lapland, Maldives and South Africa. For Honeymooners we design Adults Only Luxury Travel to Seychelles, Galapagos Islands, Zanzibar and Maldives, that has got even the tiniest details. Each holiday designed is unique and unrepeatable, like a tailor who designs a wedding dress or costume for that special day in your life.
Private luxury travel are high-level services, where excellence and great authenticity prevail above all. We strive to find the best flight combinations for our customers with the maximum of private or direct flights and if possible with the shortest possible stopover time, because we understand that no one likes to waste time at airports. As we know that long-haul flights can become very tired, we like to ensure the comfort of our customers, offering them a Business or Premium class that suits their needs, and in case of being a tourist class, we always look for the best seats available. This is how we seek perfection in private transfers and we have made sure to work with the best possible private transfer companies worldwide to ensure a comfortable transfer from or to the airport.
Hotels on private trips must be strategically well situated, valued for its characteristics and highly rated among our travel specialists and their users. We feel a hotel is more than just a place to sleep and that its location, rooms and services should live up to the expectations of each client. That's why we like to talk to our customers to offer them the best, as if it were their "second home" abroad. You should feel comfortable, relaxed, at ease and above all feel good. So we prefer to offer charming hotels, boutique hotels, and hotels that accompany the private nature of the trip, not macro hotels where the traveller is just one more room number.
Referring to the unique activities and experiences during luxury trips, we organise them directly with local suppliers to ensure their service and quality. We understand the importance of privacy and that is why we organise most activities in private or small groups, obviously always within the possibilities of our local suppliers. We aim to work with the best local providers on site to offer them the most exclusive and authentic activities that make your holidays an unforgettable experience and memory.
Luxury private and personalized travel is our passion, we fled from group organised holidays and we have own travel experience in all the destinations we offer, because on a holidays with such characteristics all should be perfect! Get inspired by our travel proposals, talk to us and share what you're looking for, what motivates you to travel, how you usually travel, what you like and what you don't like on a trip, and we'll be happy to design you your exclusive and tailor-made luxury holidays.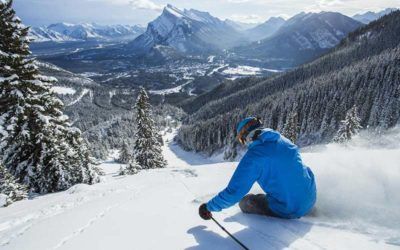 The best ski resorts in Canada
Canada is by far one of the best countries in which to ski. Canada has a wide and varied offer of ski slopes, among which some belong to the list of the best slopes in the entire continent or even the world. Undoubtedly, the most prestigious slope in the country is...
read more