Travel Lapland Christmas Meet Santa Claus in private
Enjoy the Magic of a private meeting with Santa in his secret cabin in the Magic Forrest. This Christmas, make your dreams come true and live an unique and exclusive family experience. Help the Elves in their mission to find Santa Claus and discover his secret cabin. You can´t miss this out!
Why travel Lapland with Next Destinium?
You will receive a personalized invitation to look for Santa Claus
Find Santa Claus with the help of the tracks of a Spanish elf
Seeing Santa Claus in private and spend a great deal of time talking to him
You will spend Christmas in luxury cabins in Lapland
Celebrate Christmas Eve with a special Christmas dinner
You will sleep one night in a glass igloo with jacuzzi
You will visit an ice hotel and make a toast at its ice bar
Live experiences such as husky dog sledding, reindeer sledding, snowmobile trips, looking for northern lights and ice fishing
As Destination Specialists in Lapland, we have selected the best accommodation for these holidays to Lapland for Christmas
Luxury cottages for 4, 6 or 8 persons in Santa Claus Village, superior cottages for families up to 4 persons with possibility of being interconnected, located at the Arctic Circle, Rovaniemi, beautiful panoramic glass igloos for 2 to 4 persons or typical log cabins for up to 8 persons per cottage at the hillside close to the slopes and tracks and all accommodation with the Half Board service included.
The accommodations we select at Next Destinium are strategically well located, with exceptional ratings from their guests and with absolute quality and guarantee.
Each holiday to Lapland is custom-made…
We designed this custom trip to Lapland for a family with three kids, who´s mayor wish was to meet Santa Claus privately and stay with him for a while. The dates where before Christmas.
"… and above all, for the kids, the private meeting with Santa, leaves them with a unique and very lasting memory. Without further ado, congratulations and I hope we continue organizing such attractive trips. 
Greetings, Fam. Zamorano, Madrid"
Recommended time
December – Mid-April
Price
From € 3.195 EUR per person
Detail of designed custom holidays to Lapland.
Next Destinium offers you a different holiday to Lapland, in which the experiences will be unique and unforgettable, you will sleep in a fully equipped luxury cabins and in the middle of nature in the Arctic Circle…
This travel proposal to Lapland to meet Santa Claus with Christmas is created as a suggestion by our Destination Specialists expertized in holidays to Lapland. To fully personalise your trip to Lapland, talk to us and tell us how you like to travel and shortly a Destination Specialist will contact you personally. You can also call us personally at +34.932.906.729.
Where to see Santa Claus?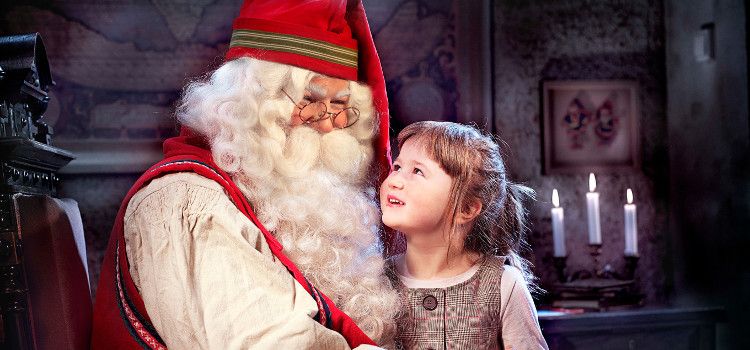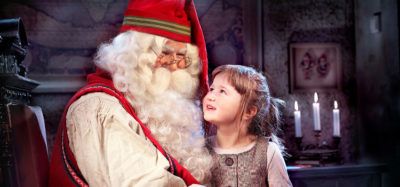 Meet Santa in Santa Claus Village, Arctic Circle.
Are you willing to know the secrets of Santa Claus and to discover his magical world and to know him personally? Upon entering Santa Claus Village, you will cross the geographical line of the Arctic Circle, visit Santa's Office and discover his time machine in the clock tower. Here you will meet him and catch this moment with Santa Claus in person. You will return home saying to your family and friends: We were there. Santa really exists! Although Christmas is celebrated only once a year, in Rovaniemi you can live those holidays throughout the year. Each season in Rovaniemi is an unforgettable experience: The midnight sun in summer, the darkness that accompanies the region until Christmas and the snowy sculptures that glow like diamonds in the spring… Santa Claus is a friend of the world's children and friends are always welcome!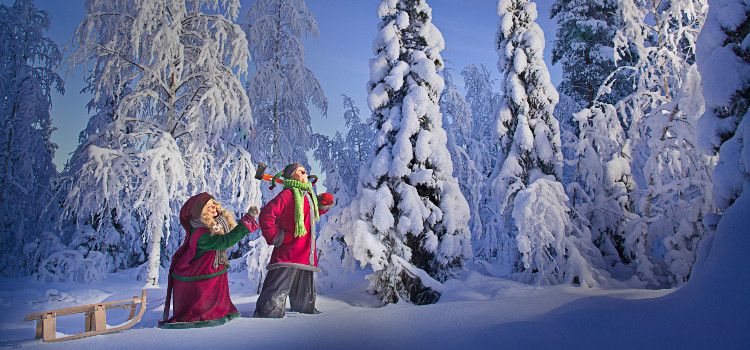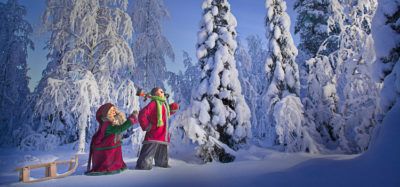 As everyone knows, Santa's mission is to become once a year the ambassador of happiness in the world, a task he accomplishes together with his faithful fur companions who are reindeer. Even if he passes by your house only once a year, nothing on your part prevents you from going visiting him at some point in the year: Santa will be more than happy to see you, so don't miss an extraordinary opportunity! However, in December, be prepared to expect large cues to up to 2 hours to visit Santa in Santa Claus Village, so take your time and be patient. 
Meet Santa Claus in private.
For this reason, we propose to you a private meeting with Santa Claus in his secret wooden cabin which is hidden in the middle of a magical and snowy forest. It is a place of pure tale where everything has been cared for to the slightest detail. We assure you that going to meet Santa Claus at Christmas will be a unique and unforgettable experience! 
To get to the secret cabin, first you will have to search for it and with the help of the Elves and a few clues, you will go out in search of Santa Claus through the snowy forest…. An exciting adventure for children and adults and if you will be lucky you will find the secret cabin of Santa Claus!! 
The authentic and magical environment of the secret cabin will transport you through time and space in a Christmas atmosphere that you will appreciate just like the little ones. You will have the help of the elves of Santa Claus who will accompany you throughout the journey through different stays of the secret cabin towards a secret room where our dear Santa Claus is located!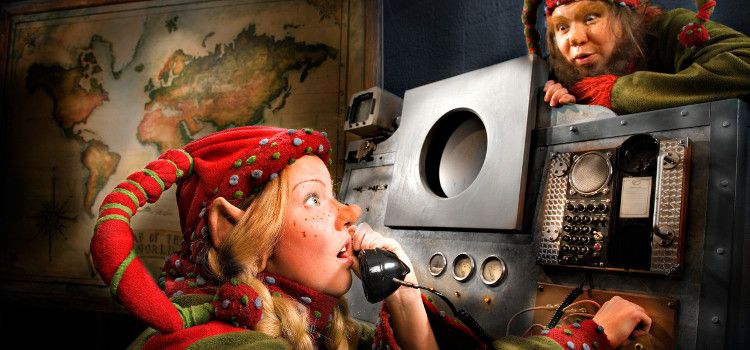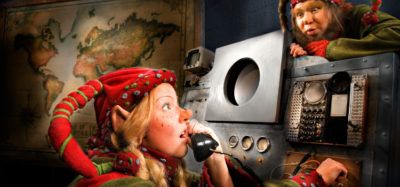 Glass Igloos in Rovaniemi. 
This trip to Lapland could not be more complete without taking advantage of the opportunity to sleep one night in a spectacular glass igloo! A unique experience to see the Aurora Borealis as the glass of the igloos are heated which allow you to see perfectly the starry and bright sky of the colourful Northern Lights! And don't worry about having to stay up all night, the comfortable igloo has a discreet alarm to warn if Auroras occur! Obviously the igloos have all the comforts such as private bathroom and shower, so as not to have to go outside (-30 °C).
Snow activities. 
You will also drive electric snowmobiles, the guides will explain how to drive them and you will leave already equipped with thermal suits to live a true experience. Make a stop and enjoy watching the snowy landscape… It's awesome! Your little ones will go with the guide and a covered sledge so they will be always warm and safe!! You will live a unique experience! 
Can you ask for more? Lapland by the hand of one of our Destination Specialists in Lapland holidays!
Tell us how you like to travel and soon a consultant will contact you personally and start designing your custom-made journey.

ALGUNOS
Other holidays you might like